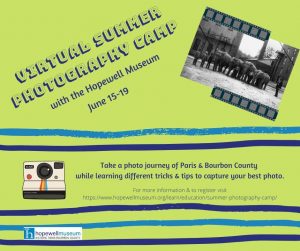 Our 2020 Summer Photography Camp is going virtual! While we are sad not to have you all with us at the museum for this popular program we feel it is in the best interest of the community at large that we re-direct for this year.
When?
June 15-June 19.
What to expect?
We will work with partners to present a series of virtual lessons or tours throughout the week. Campers will have a specific photo assignment for each day and photos taken will be shared on our social media pages and our website throughout the week. Campers will select one photo to be printed by us for a physical exhibit at a to be determined date.
Cost: $20
The cost of camp remains the same as in previous years and will include a camp "kit". Kits will include all activities & necessary supplies, camera if requested, and camp shirt.
Registration
In order for us to order shirts and any needed cameras registration will close on June 3.
Sorry, our camp has reached capacity and registration is now closed. Thank you.