Teen Art Studio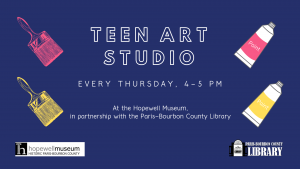 Teen Art Studio meets each Thursday at the Museum from 4-5 PM*. Led by Paris-Bourbon County Library staff, Paris and Bourbon County middle and high school students express their artistic creativity using the Museum's collections and exhibits as inspiration. The Museum provides canvas, paper, acrylic paint, pastels, watercolors, and found materials for collage. Teens can create different art each week or work on one work over time. Meet at the Library by 4 PM to walk over with library staff or come directly to the Museum by 4:15 PM. All skill levels are encouraged to attend. Finished art is displayed in our Teen Art Studio exhibit gallery.
*Teen Art Studio does not meet on Thanksgiving Day, December 26, or during January.
Sponsored in part by Kentucky Farm Bureau-Micah Campbell and the Joy Vaughn Venters Art Fund.