Introducing Tales From the Tomb
Introducing, Tales From the Tomb!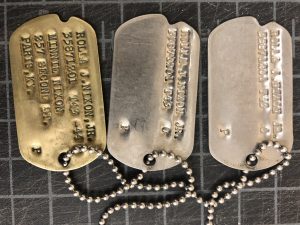 For those who have followed our Tales From the Tomb posts on Facebook or Instagram, these posts will be allow us to share more information about the material items related to people, events, and places that have been part of Paris, Bourbon County, and Kentucky history. While we love sharing this information in the short (ish) format of Facebook or Instagram, we often have to cut out some information. And, as we navigate this current time where we have to remain closed to our public, we wanted to find a more "permanent" way to share our collections with you. 
So, what's in a name?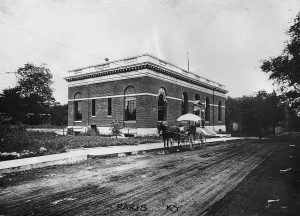 If you are new to these posts, then you may wonder why we use the phrase Tales From the Tomb, so let's have a little background on that name before sharing what the purpose and goals are for these posts. You may not be aware, but when this building was the City office building for Paris (1968-1994), that they created a holding cell area in the basement of the building. When the Hopewell Museum took over the building, they knew they needed a place to store the future collection. This space (with a little renovation) provided much of what was required: no direct sunlight, secure access, and an easy to control temperature and humidity environment that is required for collections care. It is one of the favorite pieces of information that our docents like to share with our visitors! It makes our space a little unique with an interesting history. But, because of all of the reasons that make it a great place to protect and care for our collections, it can take on a less than "cheerful" atmosphere! And we have some volunteers with a quirky personality, which is how the name for this series evolved. Our regular collections volunteers (who do great work at processing, cataloging, and inventorying our artifacts, photographs, documents, and more!) started referring to it as "the tomb" when they began their work in 2017 and the name stuck! 
But, why? Who cares?
As our volunteers work, they often find materials that are particularly unusual, unique, or just downright bizarre and some that represent a complete picture of a person's life that provides insight into what it was like to live during a particular moment in time. As they learned about these materials or people, they realized that the public might be interested in learning about them just as they were. Enter #TalesFromTheTomb on Facebook and Instagram in early 2019. These posts have represented our most popular and engaged digital content, so we have to believe that we were correct in assuming the public would also want to know about these things!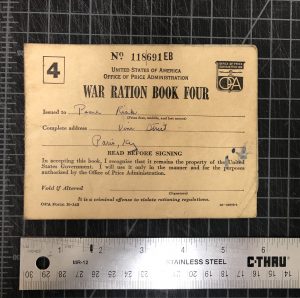 We share these small stories about people or peeks into our past because they help people to make connections between what is going on in the present to what has occurred before. This knowledge can help us all, but particularly our younger community members, to better confront the challenges they may face in the future. Sometimes, the knowledge that your community experienced something similar to what you are experiencing provides a comfort and a path to understanding. We also believe that sharing those parts of our material culture that have either disappeared or changed to meet the needs of an ever developing society help people understand change over time and that things aren't just created in a vacuum! For example, a rotary phone is unlikely to blow the mind of some of our audience, but show one to a teenager and you will see how history becomes real to them as they make the connection to their own methods of communication. 
What to expect?
As we get started, you may notice familiar content as we re-visit and expand some of our more popular social media posts. While we have a number of collections, objects, documents, and more to share we also want to hear from you! What do you want to see more of? What do you like learning about? We have textiles, Saddlebred collections, scrapbooks, music history, WWII materials from various soldiers, medical collections, sports collections, paintings, and more! 
 You can email info@hopewellmuseum.org with any questions or suggestions.